LEAD YOUR COMMUNITY THROUGH THE VIDEO SESSION SERIES
Thousands of men's small groups have discovered that watching real life stories of authenticity, brokenness and redemption serve as a catalyst for being real with one another about our own stories. 
The REDEEMED and TRANSFORMED series each feature 5 true life videos with an accompanying participant guide.
REDEEMED
No matter what happened in your past, God can not only restore you but also use your story for his glory. In this five-session video Bible study, you will hear stories from five well-known men who have been broken and experienced forgiveness and renewal.
TRANSFORMED
God longs for you to be transformed into his image, and one of the most effective methods of becoming like Christ is to be in community with like-minded brothers. In this five-session video Bible study, you will hear stories from six well-known men who have faced real-life challenges and renewed their minds through God's Word and the brotherhood of other men.
FREE Study Guide chapter download!
Redeemed Study Guide with DVD: Turning Brokenness into Something Beautiful
The two most important days in your life are the day you were born and the day you found out why.
Mark Twain
God has led us to a particular place, with a particular talent, to show God's character to a particular people. But there are forces actively seeking to keep us from experiencing our intended design and calling. God is in the business of taking the things we think disqualify us—whether it's a broken relationship, the wound of fatherlessness, a humiliating failure, or out-of-control emotions—and turning it into a fulfilling life purpose and a new identity, as God's sons.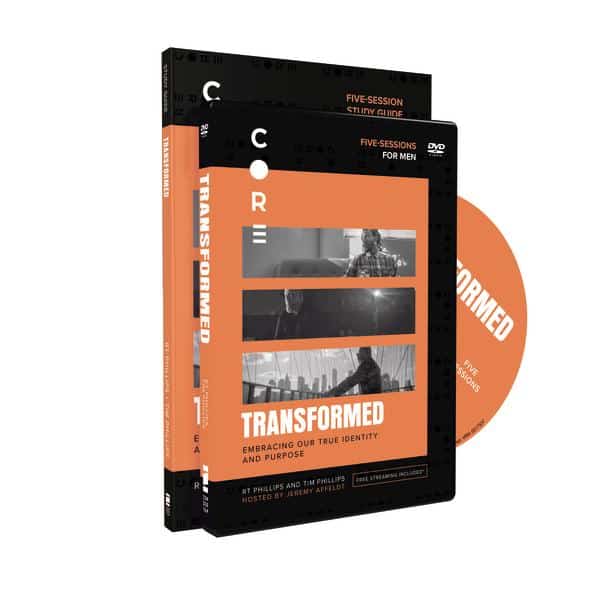 Transformed Study Guide with DVD: Embracing Our True Identity and Purpose

l

Transformation begins with deconstruction.  

In CORE for Men: Transformed, we challenge what we thought defined manhood, and we replace the messages of our tribes with what God says in his Word is true about who we are.  But we can't stop there—transformation doesn't happen until we get real with our brotherhood. Learn to trust one another with issues you've been struggling with. Isolation is suffocating, but when we get honest about the idols we are pursuing, we can change the trajectory of our life. And when we push for the elite level in life, it's essential to stop and reload every once in a while, to get grounded into what matters and prepared for what's next.